Ecogenic Baby Laundry Detergent is made for baby and sensitive skin's laundry. Made for all kinds of fabrics, it removes stains and is effective, even in low temparatures. Provides moisture to skin and rinses easily without leaving any residue.
Directions: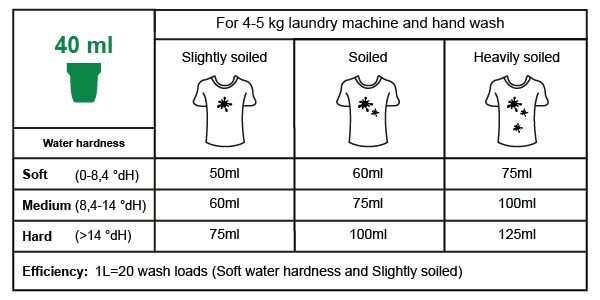 Ingredients: 5-15% Plant-based soap, 5-15% Sugar surfactant, 5-15% Coconut oil alcohol sulphate, Potassium hydroxide, Ethanol, Water. Certified by certisys.
Product color and viscosity may vary due to natural, plant-based ingredients. Store above 15°C.
Other Sizes: 2750 ml, 5L, 20L
Read directions carefully. Do not use for cleaning face, hand, body and foodstuff. Keep out of reach of children. In case of contact with eyes rinse immediately with plenty of water and seek medical advice. After contact with skin wash immediately with plenty of water and soap. If swallowed, seek medical advice immediately and show this container or label.
DERMATOLOGIST TESTED
Product certified according to the strict guidelines of ECOGARANTIE®.
Contains plant-based and natural raw materials.
FRAGRANCE FREE. DYE FREE. Skin and environment friendly formulation.
Free of petrochemical ingredients and animal-based raw materials.
No harmful chemicals such as chlorine, SLES, SLS, paraben, synthetic fragrance and phosphate.
All ingredients are fully biodegradable.
Our Certificates